Select cares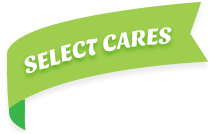 The Select Products Community
Select products are created with top-quality materials and sold at affordable prices, since everyone should be able to purchase premium household items.
People who purchase Select products aren't merely customers, they're part of the Select community. We understand that household essentials, such as paper products, are called "essentials" because they play a vital role in our everyday lives. We give these essential products the attention and care they deserve, always remembering the individual families we manufacture them for.
At Select, we only manufacture items that we would be happy and proud to take into our own homes. Select bath tissue, Select facial tissue, Select paper towels, and Select napkins are designed to be tough enough for a parent cleaning up a big mess, and gentle enough for the child making it.
In addition to providing top-quality products, Select services our communities on a personal level. Developing initiatives with participating retailers, Select is involved in a variety of community-building charities and special events. For more information about Select's community-oriented activities, and to learn how you can get involved, please contact us.