Select Products Participate in
Leadership Vance Business and Economic Development Day
On March 7th, the Select Products team of NC hosted 25 members of the community, from citizens to business people, and politicians of Vance County, to participate in and celebrate Leadership Vance Business and Economic Development Day!  
We gave community members a tour of our facility and had wonderful discussions on leadership and business and economic growth. Our CEO, Nick Galante, gave an interactive talk about Select's business and impacts within the community and beyond! This was a day of sharing knowledge, networking, and a great opportunity for everyone involved.
Here at Select, we are excited about future opportunities to be involved in the community and want to say a big thank you to Vance County's Economic Development Commission!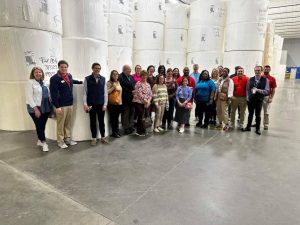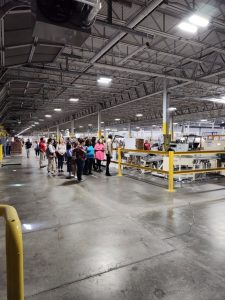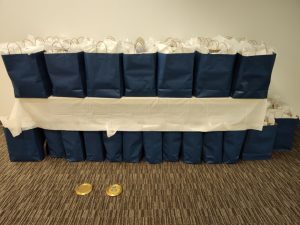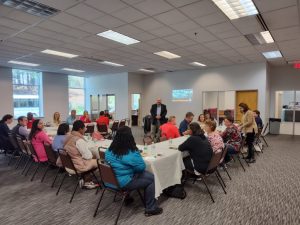 Select Products Celebrates Black History Month
Monthly spotlight!
February is Black History Month!
Select Products celebrates Black History Month by honoring all of the accomplishments and struggles of African American figures in US history.
Here are 5 things you can do to celebrate:
Support Black-owned businesses

Learn about key Black figures' contributions

Virtually visit museums on Black history and culture

Watch films or TV shows by Black creators

Listen to and share music created by Black artists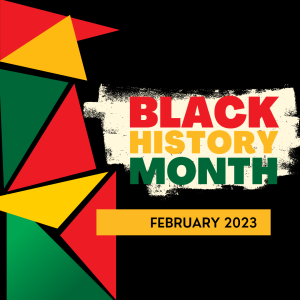 Select Products Honors the Legacy of Dr. Martin Luther King Jr.
January 16th is Martin Luther King Jr. Day! 
Select Products celebrates and honors the legacy of Dr. Martin Luther King Jr. We celebrate his life and achievements as an influential American civil rights leader. He led campaigns to end racial segregation on public transportation and for racial equality in the United States. He was an advocate of non-violent protest and became the youngest man to be awarded the Nobel Peace Prize. Because of him, we can now do many more things in harmony as one.
He's most famously known for his "I Have A Dream" speech at the March on Washington in 1963 which protested racial discrimination in federal and state law. King was assassinated in 1968 but continues to inspire so many around the world to be the change and make it a better place for everyone.  
Thank you, Dr. King, for your tireless efforts for peace, love, and happiness. 
Select Products salutes you!
​
2022 End-of-Year Message from Select
Happy Holidays from the Select team! 
As the year comes to an end, Select Products Holdings has reflected on a successful year and is thankful for all that has been achieved. These achievements could not have been possible without our hardworking, dedicated team members who preserved through bouts of COVID-19 and supply chain catastrophes. Through the tough times and the fun times, our team was able to accomplish so much and we are so proud!
The photos below are from a recent holiday party where we celebrated the cheerful season and exchanged gifts, laughs, and great conversation, along with a message from our Chief Executive Officer, Nick Galante. 
We wish everyone a happy and safe beginning to the new year! 
​
Select Products Attends the 2022 ISSA Show North America
Greetings from Chicago, Illinois! 
Select Product Holding's VP of Operations, Josh Agravi and VP of Sales, Dan Daniels attended the 2022 ISSA Show North America from October 10th-13th. ISSA is the leading trade organization for the trade industry worldwide and holds this event annually. The ISSA Show North America gives companies in the cleaning industry the opportunity to network, become more educated on current trends, and discover ways to be more innovative. 
At the event, Agravi and Daniels networked with other cleaning industry representatives to discuss our brand and mission of providing customers with premium private label paper products. Select Products makes it a priority to consistently stay up to date with current trends and innovations and is dedicated to meeting new sustainability standards as we value our customers and they are always in mind. 
Pictured below: Josh Agravi and Dan Daniels representing Select Product Holdings at the 2022 ISSA Show North America. Also pictured here: Our booth set up filled with products and company graphics. 
Stay tuned for more exciting updates from Select!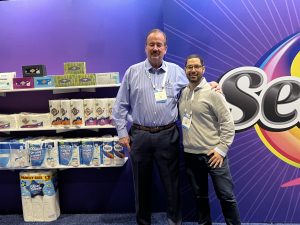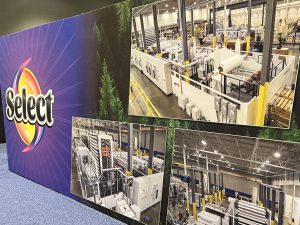 Select Products Extends a Helping Hand in the Community
While Select Products Holdings produces essential private-label tissue products for leading consumer and food service shops throughout the Northern Eastern US, we've also extended a helping hand in our local Henderson, NC community. We are excited to highlight some of our most recent community engagements.
In April, Select helped sponsor the Vance-Granville Community College Foundation's Golf Tournament! VGCC's annual event raises funds to support student scholarships and the mission of the college. We donated and delivered cases of towels to be included in the golfer's gift bags! In addition to sponsoring the Golf Tournament, we delivered cases of paper towels to the Chamber of Commerce office to support new teachers back in June, as they headed into back-to-school season. 
Photos include a thank you note from Tanya Weary, Executive Director of the VGCC Foundation, thanking Select's plant manager Jamie for our support. Michelle Burgess, Chamber President, expressed the gratitude of 130 new teachers and chamber members through images she shared of the welcome bags. Also pictured here: Our chamber members (L to R) Sandra Wilkerson, Director of Administration and Events; Hailey Reavis, Administrative Assistant; and Michele Burgess, President of Chamber of Commerce.
We look forward to even more opportunities to give back to our community in the future!